Rimrider

by L.A. Kelley
Format: Audio
Narrator: Cassandra Richardson
Series: Rimrider Adventures,
on Aug. 22, 2017
Genres: YA, Science Fiction
Source: Audible
Buy on Amazon


Goodreads



Orphan, pirate, spy.

Awakened by her father, teenager Jane Benedict is ordered to memorize a mysterious code. Hours later, Mathias Benedict is dead and Jane and her brother, Will, are wards of United Earth Corporation. To evade the company's murderous clutches and uncover the meaning of her father's last message, Jane leads Will on a desperate escape across the galaxy aboard the Freetrader smuggler ship, Solar Vortex. Tangled in the crew's fight for freedom, Jane saves the life of young smuggler, Mac Sawyer, and learns her father's code identifies a secret cargo shipment. The trail leads to the planet Rimrock and the massive prison complex of Golgotha. Undercover as a spy, Jane stumbles into a conspiracy that can spell doom for the entire Freetrader cause and the extinction of an alien race. Can she escape the prison confines and deliver a warning before it's too late?

Piracy, intrigue, romance, space battles, and a daring rebellion from Earth wait on the galactic rim. Will Jane answer the call to adventure and find new purpose, or is death for high treason her fate?
"Chanda Reads Books" is a participant in the Amazon Services LLC Associates Program, an affiliate advertising program designed to provide a means for sites to earn advertising fees by advertising and linking to amazon.com. This is at no cost to the readers of this blog.
---
Review of the story:
Rimrider is about a young girl (Jane) and her little brother (Will) who have become orphans within the first chapter of the book and their fight for survival and what family means for them. Jane and Will escape their parent's killers (the government) by boarding a space ship and getting involved with space pirates, rebels, and spies. 
This book was difficult for me to get in to until about 20%. I think part of the reason is because I couldn't connect with Jane. She is very young, and quite immature for the YA genre of heroines. Now, I will say that sometimes I forget how young YA heroines are because so much seems to get piled on them and they are often thrown into very adult situations, but Jane was hard to like in general . Her disposition was a little whiny and she lacked emotion for things like her father's death. She does seem to grow up quickly though and becomes decidedly more likable as the book progresses. 
With that being said, I did enjoy the book about 20% in and after. The world building was interesting, but not confusing and so big as to distract from the story. Secondary characters really held their own (Gem is the best) and the plot of the book was interesting and fun to read, albeit a little predictable at times. The book ends by setting up for the next book, but with no major cliffhangers. I would rate the story 3.5/5 stars. 
Review of the audio:
I've never listened to any of Cassandra Richardson's narrations before, but I think she did a pretty good performance. Her characters were easy to distinguish from one another and her male voices were believable. I will say, sometimes her voice for Jane got a little whiny, but honestly that could have been intentional. I needed to keep reminding myself that Jane was a sheltered 15-16 year old who would likely have reason to be whiny sometimes, so it wasn't really a mark against the actual narration. Overall the narration itself was 4/5 stars. 
Next Books in the series
---
Giveaway!
Rimrider Giveaway: $10 Amazon Gift Card

---
Author Interview
Tell us about the process of turning your book into an audiobook.
I had no clue where to begin so decided to use ACX.com. ACX is the Audible production site and they have a large roster of narrators. Unfortunately, it's not the easiest site to use. Basic information can be buried deep and difficult to find, especially for someone with no experience in audiobook production. The layout of the pages is awkward. Banging my head on the table and cursing at the screen helped. I soon ran out of English curse words and scrounged up a few in other languages. Thank you, Google Translator. (If you're interested "You are a horse's ass." in Dutch is "Je bent een ezel van een paard.") Once I was finally able to set up the account and the audition, the rest was easy. The best part was working with my narrator, Cassandra Richardson. She's a total pro.
Do you believe certain types of writing translate better into audiobook format?
No. A nonfiction history can be as engaging as a space opera. It all depends on the quality of the writing and the narration. A audiobook is a collaborative process. If the writing is weak, a good narrator can't make it better. If the narrator doesn't suit the story, good writing won't keep the listener from nodding off.
Was a possible audiobook recording something you were conscious of while writing?
An audiobook is a new idea for me, although when I write I "hear" dialog and "see" action like a movie in my head. Or maybe it's a hallucination. I'm not sure.
How did you select your narrator?
I posted an audition script on ACX.com. They have a large roster of narrators and I lucked out with Cassandra Richardson. She's terrific. Rimrider is the first book in a series with a large cast of characters; female and male, young and old, even aliens and a few sound effects. This isn't a simple project and required a voice actor with a large range. I could tell by her audition she had the right stuff.
How closely did you work with your narrator before and during the recording process? Did you give them any pronunciation tips or special insight into the characters?
We had a great working relationship. I wrote an information sheet for Cass with specifics on the characters like age or important background information. I also added a pronunciation guide. She would send me a bunch of chapters at a time. I'd list any errors in pronunciation or areas where I wanted a change, along with the time code, and return them to her for a correction. There weren't many. She 'got' the story from the beginning.
Were there any real life inspirations behind your writing?
Yup. I wanted to write a space opera and focus on a girl's evolution from typical teenager to space pirate. While Rimrider is set in the future, the story's roots are anchored firmly in the past, influenced by my first relative to come to America. She joined the flood of Eastern European immigrants who braved the trip across the Atlantic around 1900. Just shy of sixteen, she traveled alone with no knowledge of English or American customs and culture. She had no money, few skills, and carried nothing more than a beat-up suitcase held together with rope and a burning desire for a better life. As I thought about her, it struck me a girl crossing the ocean might have a lot in common with an interplanetary settler. Communication with people left behind is difficult. Trips are most likely one-way as expense or political unrest make a return to the homeland impossible. The scariest part for past and future travelers is the same; abandoning everything familiar and loved for the unknown. Only the most adventurous take the leap.
With an idea of the heroine's personality, I needed to flesh out the story and decided to make Rimrider a loose parallel of the American Revolution. On Earth, the colonists on the galactic rim are considered pirates and outlaws, plotting revolution against legal authority. Meanwhile, the Freetraders see themselves as fighting tyrants who make rules to only benefit Earth, ignore colonists' rights, and treat them as cheap, exploitable labor. I especially wanted to add interesting female characters. For most of American history, women's contributions were hidden or dismissed. They couldn't vote or participate in politics or military campaigns. The girls and women in Rimrider are equal partners in the fight for freedom from the very beginning, and their voices are loud and clear.
How do you manage to avoid burn-out? What do you do to maintain your enthusiasm for writing?
I have burnout for house-cleaning, dental appointments, lawn maintenance, and shopping for a pair of jeans that fit. I've never had burnout for writing. What is that, anyway? Some kind of hot beverage?
How did you celebrate after finishing this novel?
I bought a large chocolate bar and started Book 2.
What's next for you?
I just released the first two books in a new series called Big Easy Shaman which I hope to eventually turn into audiobooks. The novels take place in an alternate history 1930s New Orleans where jazz and magic fill the air. Teenager Peter Whistler gets drawn into the life of a shaman; magic, mayhem, animals committing felonies, sass talk, gleeful revenge, bad things happening to good people for no particular reason, combat trained southern belles, zombie nuns, and the Mad Frog King of the Bayou. And that's just the first two books. Book 1 is The Rules for Lying and Book 2 is The Book of the Practically Undead.
---
Tour Schedule
Nov. 1st:
The Audiobookworm
Dab of Darkness Audiobook Reviews
Adventures Thru Wonderland
Nov. 2nd:
Nov. 3rd:
Nov. 4th:
Nov. 5th:
Nov. 6th:
Bean's Bookshelf and Coffee Break
Nov. 7th:
Lilly's Book World
Jorie Loves A Story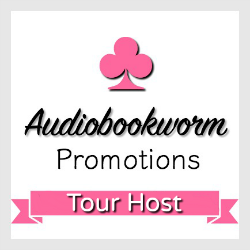 ➜Sign up as a host here
---